Customer Contact Centers
From coast to coast, CSG is in touch and connected, and we're listening. CSG offers premier customer contact centers to complement our clients' full-service program delivery.
With state-of-the-art telephony/call center technology and knowledgeable customer-care professionals, CSG increases program success with unmatched customer service.
Dedicated to your success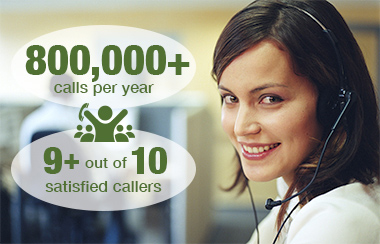 CSG's contact centers boast exceptionally high customer satisfaction ratings. We regularly exceed client Key Performance Indicator (KPI) requirements. Our answer rates are above industry standards.
Your customers receive attentive service by Customer Service Representatives (CSRs) who understand program intricacies. Our CSRs skillfully guide customers to participate in programs and move ahead with energy efficiency improvements.
National infrastructure, regional presence, local delivery
CSG operates six contact centers around the U.S., serving all sizes of clients and customers. Each center provides a local sound and feel to align with client and customer expectations. Regional centers provide local program support in all time zones.
Every CSR completes extensive client-specific training before answering a call and is required to continuously meet service levels and performance standards.
Delivering results: superior customer experiences
CSG's contact center management team is committed to bringing you the highest quality of customer service. Our management team has extensive energy efficiency industry experience. This experience translates to a consistent approach to customer service and results in positive customer satisfaction.
Contact us to learn more.
Annual averages – recent performance
Call Volume, Inbound & Outbound: more than 1.9 million
Support/answer toll-free numbers: 100
Contact center services available
 Program support and a la carte services include, but are not limited to:
Inbound and outbound calls
Coordination of appointments and work
Participant recruitment
Information fulfillment
Administration, such as payment processing
Surveys
Energy efficiency expertise and guidance
Reports
Capabilities, capacity, resiliency
 Each customer contact center location is equipped with:
Prairie Fyre Customer Service tools to provide real-time and historical statistics
Oaisys Call Tracer to record, monitor and review program related calls at your convenience
Automated outbound dialing system
Language Line to enable 24/7 translation (>170 languages)
KeySurvey Software (used to conduct satisfaction surveys)
Service Skills (online training library)
National quality monitoring program